Over a span of more than 25 years, we have helped thousands of people with entry into the USA through a K1 fiance or spouse visa. Live your life dreams of living in the USA legally with your significant other today.
Remy and Anthony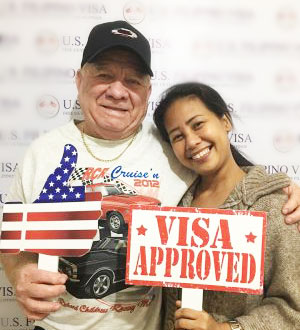 "Praise God we have been approved. I thank the Lord that God lead me to my beautiful fiance Remy. This has been a journey that I will never forget because I have meet my wife and her son Jess and they have been blessing to me. Now, we share our life in the USA. Thank you so much for all your support and happiness. We put all together we could not have done this without you. God bless."
Cora and Arthur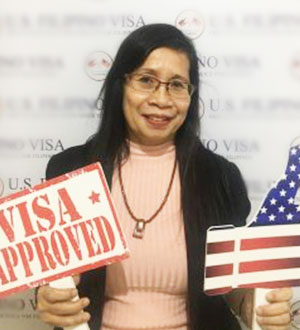 "Hi, I would like yo thank all the staff for being so approachable especially Percival. He was always there from the start of my K1 visa process. Whenever I had a query, he is very accommodating anytime of the day. Whether it is weekend, he will email me and answer all the questions I ask. I was blessed…"
Kristine and Antonio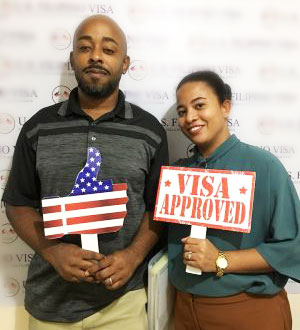 "It was a blessing day for both of us today. This is the day that God hear all our prayers about processing of documents until the interview. Thank you so much specially to Percival who processed everything, answers all our queries and helping us. God bless you and More power."
Gina and Spencer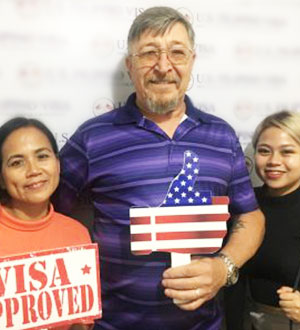 "Thank you for your assistance. Everything is worth it! Thank you for everything and good service."
Neomi and Corey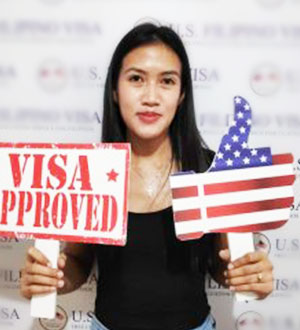 "First of all, I want to thank God for his guidance on my application (K1 visa). To all the staff who always there to guide and assist my application. Specially to Ma'am Cherie, our visa consultant. Ant, Corey, and I owe you so much Ma'am. Thanks a lot. To God be the glory and more power to this agency."
Jessel and Jake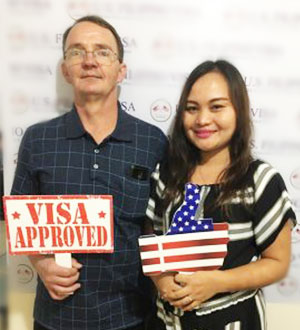 "We are both happy and satisfied with the service. Excellent! The communication is well and made easy for us. Thank you."
Maria and James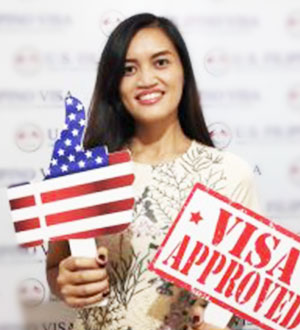 "I would like to testify that visa have 100% visa approval. Great employees, very approachable and knowledgeable about what they are doing especially Ms. Cherie. James and I would like to thank you all from the bottom of our hearts. Job well done! God bless!"
Angela and Denny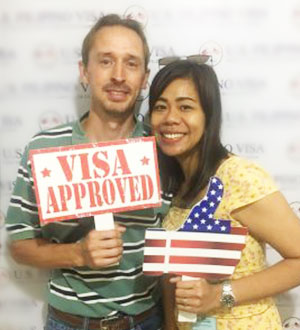 "I and Denny are very thankful for the assistance you have given us. It was a good experience to have you along with our journey. To have great assistance with documentation, medical and the interview process. Thank you so much for your great help."
Pacita and Albert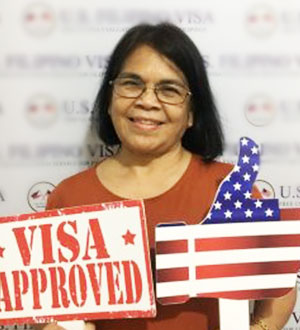 "Hi, I'm Pacita. I'm so happy to passed my visa interview. Thank you God for guiding me and to all the staff who is very hard working to process my documents. Thank you especially to Sir. Dominic and Cherie. More power to all of you!"
Completely free with no obligation to test our system! No credit card required.